Do you know which edit is the basic level of highlighting products? It's a transparent background. So yes, the first essential step for going to the next level is to make transparent background.
However, you have the option how to make background transparent in Photoshop. However, if you want the perfect output, you must take services of background transparency done by hands provided by experts.
In Colour Experts, we assure our clients by giving them high-class services using high-quality tools and methods. Our skillful team of image editing experts will edit background 100% expected quality works. So, take transparent background service from the best Photoshop services provider, Colour Experts.
What is Transparent Background Making?
Transparent background making removes the background of a picture so that the subject in the image is highlighted. It gives a background editor freedom to use the subject image anywhere.
Making a transparent background is simple. There are many popular tools in the best image editing software called Adobe Photoshop. 
Each of those tools can eliminate the framework and make the subject in the photo attention catchy. However, the process of using the tools will take some days to master.
It's pretty hard to utilize those functions by people who didn't learn to operate them. Hence, the best option is to make a transparent background service. Each different tool requires you to follow different steps to do the separation of background from the subject.
That's not it. It takes the effort, time, and understanding of images. In Colour Experts, we make transparent backgrounds so that photo quality remains the same, or sometimes if needed, we increase the quality. For enjoying the world's best photo service, contact us.
Different Ways to Make Transparent Background in Photoshop 
Photoshop is an amusing software that allows several different tools. All the tools can perform some edits. One of the basic edits is making the bg transparent. Photoshop offers many two ways to make background transparent Photoshop. We are about to share with you those two different ways to make transparent backgrounds in Photoshop. 
Make Transparent Background Quick
Make Transparent Background is quick action. You need to do one click and boom! The image will get a clean background after the framework is completely removed. Though this process is the easiest, sadly, it will not work well for complex photos. 
Make Transparent Background Manualy
If you want to punch out that irritating background accurately, you need to make the background transparent manually. The procedure includes selecting the whole subject, outlining the edges when essential, and separating the background from the subject.
Make Background Transparent Using Various Tools in Photoshop
Photoshop holds a range of transparent background-making tools. Some of them can almost do the task independently, while others require you to do it yourself. We are about to look at the famous tools in Photoshop for transparent backgrounds. So, here we go.
Make Transparent Background Using Pen Tool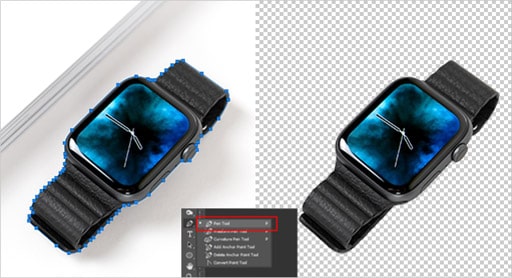 The pen tool is the most used tool to make background transparent. It works like magic and helps you get the perfect output. But to do it, you need to do certain things. The first is selecting the Pen Tool. You can find it in Photoshop from its bar on the left side.
Then you have to draw a clipping path, which you can do just by clicking on the subject edges. When you are done drawing paths, next is converting them.
You will find a paths window to see an option called "Load path as selection" and then hit it. Finally, click on Select and then Inverse and lastly on Delete to eliminate the background.
Transparent Background Using Background Eraser Tool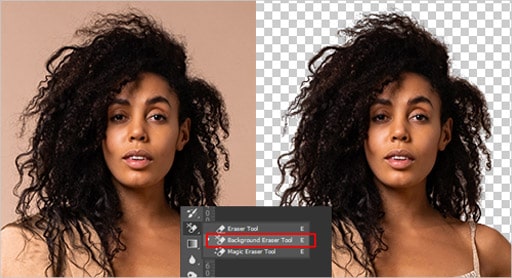 This is another cool option to use to remove and make transparent background. It works excellent with a clean framework. Check the toolbar in Photoshop, where you can find background eraser tools.
Select it. Now, it's time to duplicate the layer of the background. Search for an "Eye" icon and press it to make the bottom layer unseen.
Now pick the brush with your preferred size but don't forget to keep its tolerance over 24 to under 25 percent. Finally, start erasing with the brush your photo background.
Make Transparent Background Using Quick Selection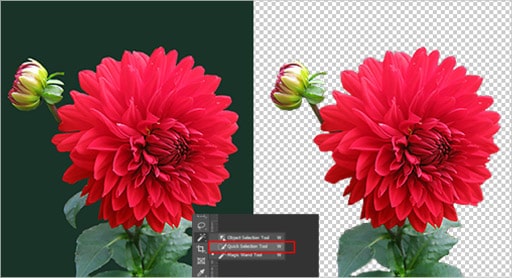 If you press on "W" as a shortcut, it will automatically select the quick selection in Photoshop. Now, make a selection. You can make background or subject selection depending on your requirements. Photoshop will do one thing by it selecting the relative tone values.
The following job is refining edges. First, press on the "Refine Edges" button and wait for a popped up window to appear on the screen. When the Refine window is opened, you can make image background transparent and find any imperfections there.
Make Transparent Background Using Magic Wand Tool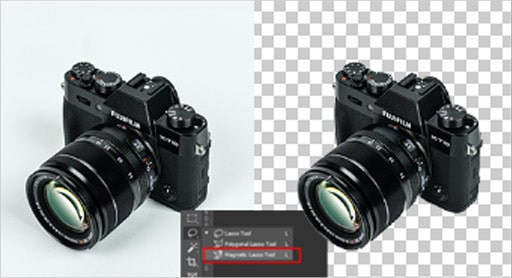 Magic Wand Tool offers you the easiest ways to make your background transparent in all other Photoshop tools. There are very few steps to follow to get an accurate background.
If you require multiple areas, you need to hold the shift key down and press the Magic Wand Tool to add to the selection. Once the whole background is selected, type "Delete" on Mac or "BACKSPACE" on the window. You will now get the white and gray checkerboard pattern clean.
Make Transparent Background Using Lasso Tool
Lasso tool is so helpful when it comes to creating good background transparency. Using Lasso is also simple. It doesn't require challenging steps but is manageable. All you need to do is, select the subject in the photo.
After selecting it, you will find a Lasso marquee displayed around the item selected. To eliminate the framework, select it, afterward from its Select Menu, press on "Inverse."
It will make the marquee of Lasso display around the image background. Click on the "Delete" button, and the background will be removed. You will get your desired transparent background.
Make Transparent Background Using Eraser Tool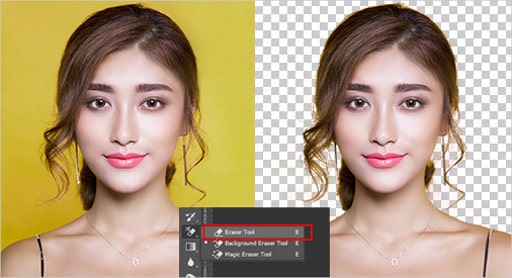 Last but not least comes the Eraser Tool in Photoshop. Of course, like all the other tools, the first thing to do is select the Eraser Tool. There you will see an options bar. Pick Mode setting.
Set the size of your pencil and brush. Now keep brushing to remove the background. This method is also easy and relies on getting the correct quality transparent background.
When to Make Transparent Background
To get the best out of the background of your photo, you must know when to make the background transparent. If you have a better idea of this, there is no way of getting confused later.
Moreover, you can understand its necessity and know why you should take the service of making a translucent background from Colour Experts BD. Below we have pointed out the reasons for when to make the background transparent.
When the background looks distracting
When you need to make a specific subject eye-catching
For making professional product photos to upload for online stores
To remove unwanted objects
To bring changes and modifications to the background
When Not to Make Transparent Background
Sometimes you may think you need transparent bg services. But it may not always be the case. Often your pictures need no other edits or at least not the transparent background.
Since Colour Experts BD is a Photoshop services provider, we want to inform you when you need this service. Check out below the reasons when you don't require a background transparent.
Everything in the background looks exactly the way you want
Nothing ugly or distracting in the background
When the subject in the image is popping out perfectly and successfully attracts the viewers.
Who Should Choose Our Transparent Background Service?
We gladly offer our high-quality service to everyone who needs background transparent service. You can be anyone. As the world is moving forward, more people are demanding such service. So to be specific, we suggest the following personnel take this service from us.
Professional Photographer
Many times a professional photographer requires a clean background. They are great in photography, but not all of them are experts at making backgrounds translucent.
So, if you are a photographer and need to eliminate any irritating background from your clicked image, try our service out.
Online Business Holder
Usually, any photo of products requires the elimination of backgrounds since they need to add the white background later or any further edits.
Only then will the product photo help generate sales. So, if you own an e-commerce website, you must need the service.
Anyone Wants to Get The Transparent Background
If you want to remove the background from your photos, if you don't like the existing background, you can take our service of background transparent.
Many people knock us for removing backgrounds that they don't like in the picture. So, we remove it, and if they require it, we do other edits to bring changes to the image.
Why Choose Our Transparent Background Service
Now that you have a fair idea about our transparent bg service, you might be eager to know why you should put your trust in us.
Well, let us tell you that Colour Experts offer world-class background transparent service in the industry.
Besides this, we can tell you more reasons for choosing us as your Photoshop service provider partner. So let's take a look at the top reasons why to choose us from below.
We have experienced image editors working for years who have skills in using all the Photoshop tools.
We offer the budget-friendly service pricing
We use updated and latest software to edit images
Our customer support team is always ready to respond to the consumers
We always provide the best quality clean background photos to satisfy our customers
Conclusion
Colour Experts BD owns the most expert team ready for you. We ensure to provide you with the best transparent background service. You are always welcome to contact us. Let us know any requirements you have and see how professionally we handle the rest.
We will send you the final output with your given original copies within the deadline. If you don't regret taking a transparent background service, then take it from Colour Experts BD.